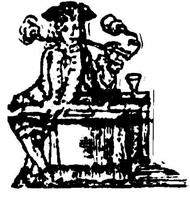 Last Chance To Read makes available a searchable collection of thousands of pages of scarce British and Irish newspapers and other publications, most of which were printed between the years 1710 and 1870.


Why is the site called "Last Chance To Read"?
The name "Last Chance To Read" was chosen to highlight the scarcity of the content. While many copies of each issue of a newspaper were printed, very few survive today, so few in fact we believe that some of the images on this website could be the last copies in existence of that issue.


Why are you called "Luminary Trading"?
We took our inspiration from a distant relative of ours, John Burniston, who produced the now extremely rare newspaper "Burniston's Northern Luminary" which was printed by him at Knaresborough in Yorkshire. His thirty year passion to publish from his independent press has left an extraordinary legacy and a moving obituary. We hope to make examples of his work available on this site in the near future. 'The Northern Luminary', a small paper of eight quarto pages of which John Burniston was sole proprietor, editor, printer, and manager, was published (with intervals of suspended animation) from November 1848 until his death Jan.2nd 1879. This paper was probably unique in England, being the production of only one person, who collected the matter, wrote the editorials, set the types, worked off the sheets, and then sold them; in short did everything connected therewith by his own exertions. He was a self-taught printer, and manufactured his own printing press.



"Died at Knaresborough, John Burniston, proprietor, editor and printer of the 'Northern Luminary' newspaper; which was one of the most singular papers in the kingdom; for he was the writer, printer, and salesman, hawking his small production, all around the towns of Knaresborough, Harrogate and Wetherby. The first No. was published Nov. 29th 1848, and was continued, with interruptions until his death. He was only ill about a week, and that was not considered seriously so. He was about to set up the type for a sale bill, when he found that he had lost the use of the fingers of his right hand, which was soon followed by that of his right arm, and eventually the whole of his right side became paralysed. He was conscious nearly to the last; and his hearing, which a few months before had become impaired, became as acute as ever it was at any period of his life. His school education was of the scantiest kind, so that he might be truly styled a self-taught man both as a writer and printer. He also made his first printing press; which we have heard him jocularly remark was once mistaken for a cobbler's stall. Burly in build, and ungainly in appearance; he was also negligent even slovenly in his dress. Sometimes his paper contained witty remarks of the most biting and caustic kind. Upon the whole he was a most remarkable character."



Source: Unpublished transcript by William Grainge (provided by Margaret Power)

For more information please see our

FAQ page
Titles included in the Last Chance To Read collection:


Aberdeen Chronicle
Aberdeen Journal
Age
Alfred
Athenian Mercury
Atlas
Baldwin's London Weekly Journal
Bath Chronicle and Weekly Gazette
Bath Journal
Belfast Commercial Chronicle
Bells Life in London
Bells Weekly Messenger
Berrow's Worcester Journal
Birmingham Journal
Black Dwarf
Boddley's Bath Journal
Bristolian
British Apollo
British Spy or New Universal London Weekly Journal
British Weekly Mercury
Bury Post and Universal Advertiser
Caledonian Mercury
Carlisle Journal
Champion
Chester Weekly Journal
Cleave's Penny Gazette
Colchester Gazette
Commonsense or, Englishman's Journal
Correspondent County Journal or, Craftsman
Courier
Craftsman; or Say's Weekly Journal
Crisis
Daily Advertiser
Daily Advertiser, Oracle, and True Briton
Daily Courant
Daily Gazetteer
Doncaster, Nottingham, and Lincoln Gazette
Dorset County Chronicle
Somersetshire Gazette
Durham County Advertiser
Edinburgh Advertiser
Edinburgh Evening Courant
Edinburgh Gazette
Englishman
English Chronicle
Evening Mail
Evening Post
Examiner
Figaro In London
Flindell's Western Luminary
Flying Post or Post-Master
Franklin's Miscellany
Free Briton
Freeholder's Journal
General Advertiser
General Evening Post (London)
Glasgow Advertiser
Glasgow Mercury
Globe
Glocester Herald
Glocester Journal / Gloucester Journal
Gore's General Advertiser
Grumbler
Halfax Free Press
Hue and Cry
Hue and Cry, and Police Gazette
Hull Advertiser
Ipswich Journal
John Bull
Kentish Gazette
Kentish Post, or Canterbury News-Letter
Lancaster Gazette
Lancaster Gazette Extraordinary
Leeds Intelligencer
Leeds Mercury
Leicester and Nottingham Journal
Leicester Journal
Lincoln Gazetter; or Public Advertiser
Lincoln, Rutland, and Stamford Mercury
Liverpool Mercury or Commercial, Literary, and Political Herald
Lloyd's Evening Post
London Courant or New Advertisier
London Daily Post and General Advertiser
London Evening Post
London Journal
London Morning Penny Post
Macclesfield Courier, Stockport Express, and Cheshire General Advertiser
Magnet
Maidstone Journal and Kentish Advertiser
Marlborough Journal
Morning Chronicle, and London Advertiser
Morning Post and Daily Advertiser
Newcastle Courant
Newcastle Journal
Newry Examiner
News
Nonconformist
Norfolk Chronicle or Norwich Gazette
North Wales Gazette
Northampton Mercury
Northend Album
Norwich Gazette
Nottingham Journal
Nottingham Mercury
Nottingham Monthly Miscellany
Observator
Old England
Paul Pry
Paul Pry Reformer of Age
Penny Morning Advertiser
Penny Sunday Times and People's Police Gazette
Perth Courier
Police Gazette
Police Gazette ; or, Hue and Cry
Pope's Bath Chronicle and Weekly Gazette
Post Boy
Post Man
Postscript to Flying Post
Public Advertiser Radical Reformer and Hereford and Ware Patriot
Rehersal
Rememberancer
Reynolds Political Instructor
Salisbury and Winchester Journal
Salopian Journal
Selector or Say's Sunday Reporter
Sheffield and Rotherham Independent
Southern Reporter and Cork Commercial Courier
Squib
St James's Chronicle
Sun
Sussex Weekly Advertiser
Telegraph (Brussels)
Tom Spring's Life In London Town
Warwick and Staffordshire Journal Weekly Courant
Weekly Journal or, Saturday's Post
Weekly Pacquet of Advice from Rome : or History of Popery
Wellington Gazette
Wheelers Manchester Chronicle
Whitehall Evening Post
World
York Courant